CORROSION RESISTANT CHAINS ( ZINC / NICKEL / ZAC COATED )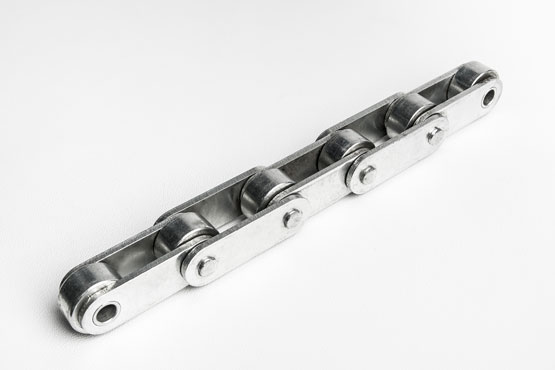 Corrosive environments require chains with high fatigue strength and wear resistance. Chains made from normal steel grades wear quickly, so corrosion resistant chains are used in such applications.
A wide variety of coatings and material combinations can ensure a chain is corrosion resistant. As Makelsan Chain, our product range includes roller chains made of stainless material, available in zinc-plated, nickel-plated or galvanized versions.
Zinc: Generally used in outdoor applications, zinc protects the chain from oxidation and corrosion.
Nickel: Generally used in the food and packaging industry, to form a protective layer against acid on the chain.
Three Main Factors Causing Chain Corrosion: The environment in which the chain operates, the chain material, and the machine or plant design and duration and type of application. These key parameters help define the correct chain for a particular application.
We manufacture alternative coated corrosion resistant chains on request. By combining different coatings to achieve high wear resistance, we guarantee a high level of corrosion protection for attachments while meeting specific customer requirements.
Stainless steel chains are mainly used in food production or in applications where frequent chain cleaning is required. As Makelsan Chain, we also manufacture stainless steel chains made of materials that allow them to be used in acidic or alkaline environments. These chains are also available in models with bent attachments, special attachments and extended or protruding pins.
To examine the examples of the corrosion resistant chains we produce and for more detailed information please review the "MAKELSAN E-CATALOGUE"