ACCUMULATION CHAINS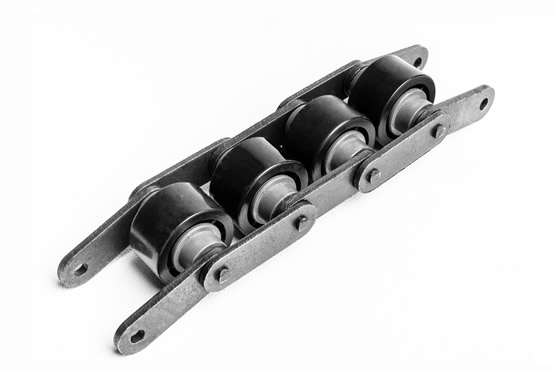 Accumulation chains guarantee trouble-free positioning of the transported goods and almost completely avoid jolting when the system is moving and at rest.
Idler rollers on both sides serve two purposes:
They engage with the gear's teeth to transmit power.
They support the chain on the guide rail.
As Makelsan Chain, we offer various chains in different performance classes. Our products can be designed as middle or side rollers depending on the need and usage. In addition to the standard accumulation chains, side bow accumulation chains are also included in our production. The carrier rollers in the chain are also available in hardened steel, stainless steel, nickel-plated or plastic versions.
Advantages of Accumulation Chains
Outer rollers with low friction coefficient in the accumulation chains provide energy savings of up to 30%. The length of your conveyor system can be increased by 30% without any modifications to the drive motors; or, if the system length is left unchanged, smaller drives can be fitted. It also results in a longer service life for the entire conveyor system as there is less strain on the chain and drive. In addition, since each pin takes its share of the load equally in the accumulation chains, it ensures that the products are transported smoothly and with optimum weight distribution.
During the spool-free transport operation, the piece goods sit on the chain rollers and are transported at the chain speed, while the chain continues to run smoothly under the accumulated piece goods due to the freely movable rollers during the spooling operation. The friction generated on the rollers causes a slight impact pressure on the goods being transported, so that the transport continues easily and without delay after deposition.
These chains are mainly used in the electronics industry, food industry, timber, glass and ceramics processing, medical technology and where relubrication is problematic or impossible.
You can review the "MAKELSAN SPECIAL CHAIN CATALOG" for more detailed information and to examine the examples of the accumulation chains we produce.