SCRAPER CHAINS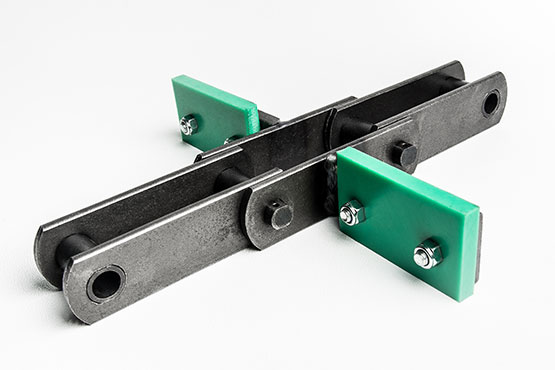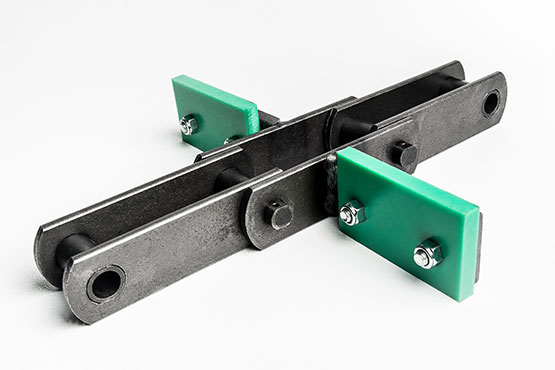 What is Scraper Chain?
Scraper chain is a type of chain with flights that are scraping the material over the bottom of the casing. The material is moving forward to the discharge point.
Scraper conveyors generally use a single or double strand of chain. Flights are either welded directly onto the chain, or bolted onto the chains attachments.
Scraper chains have a wide range of uses such as moving feed, ash, cement, wood shavings, slags etc, or scraping settlement tanks (either above or below the water lines)
Scraper-flight conveyor chains are chains used in various fields such as iron, steel, coal and mining industry, grain silos, sand quarries, feed, pasta, flour industry, in order to carry the load to be carried over long distances by sweeping method. It generally works by attaching UHMW (PE1000 / PE500 / PE300) or POM (DELRİN) material to the scraper flights of the chain.
Features of Scraper Chain
Scraper chains transfer granular or aggregate product at full rate over a distance that may include a level change while protecting the transported material from the weather. Scraper chain conveyors can be used for cooling or dehydrating product during transfer (through air or water circulation), mixing and measuring, bulk handling for storage, process supplying, extracting, distributing at several points, picking up product, and lifting decanted or washed product.
Scraper chain conveyor is ideal for carrying bulk non-abrasive materials, horizontally or up a small incline, these conveyors feature a closed box.The chains scrape the floor of the box and return on guide rails at the top of the box.With a single chain, scraper flights of integral malleable steel or in the form of L attachments protrude on each side to span the box. With two strands of chain, the scraper flight is carried between strands.
Scraper chains conveyor and accessories are used in scraper conveyors for ash removal system of thermal power plants which are required to operate continuously. Due to constant abrasion of these chain links against each other as well as due to the abrasive material which is being handled in the ash removal system, surface treated chains are essential to give a reasonable service life and to work without frequent replacement.
Benefits of Scraper Chain
Scraper chain conveyors are widely used in metallurgy, building materials, electric power, chemical, cement, coal, port, mine, food, feed and other industries and sectors. Chain scraper conveyor is an enclosed machine to transport bulk materials continuously under the help of the moving scraper chain; due to the transportation of materials, scraper chains are all buried in the material, so it is also known as the scraper conveyor.
Cement scraper chain conveyor is featured by it's simple structure, good sealing performance, convenient installation and maintenance, flexible process layout; it not only can be designed to horizontal conveying, but can also inclined or vertical conveying; Because the conveyor casing is enclosed, therefore when conveyor transports large, toxic, explosive, high temperature materials, the working environment can improved and the environmental pollution can be controlled significantly.
Ideal for fuel transport & fuel distribution
Efficient storage room utilisation
Can be individually planned on existing floor plans
Dust protected due to full covering
Low maintenance effort due to easy replaceable wear parts
Simple and robust construction
Economic operation due to use of efficient drive elements
Reliable transport of:
Wood chips
Pellets
Sawdust, bark as accompanying material
Waste wood
Special fuels (for instance: corncobes, cherry stones, chicken litter)
Ash
Scraper chain conveyors are useable as:
Fuel transporter over longer distances up to 30 meters
Fuel transporter to a higher level
Fuel distributor for cascade systems
Central ash discharge
Usage Areas of Scraper Chain
Scraper-flight conveyor chains are chains used in various fields such as iron, steel, coal and mining industry, grain silos, sand quarries, feed, pasta, flour industry, in order to carry the load to be carried over long distances by sweeping method.
To examine the examples of the scraper chains we produce and for more detailed information you can review the "MAKELSAN SPECIAL CHAIN CATALOGUE".
FAQ
Scraper conveyors are high-performance conveying machines for the horizontal and ascending transport of very different materials.
A scraper conveyor is a material transportation device utilizing a continuous, driven chain circuit equipped with regularly spaced cross members. The chain travels through an channel or trough which prevents the transported materials from falling off the conveyor while the cross members drag or "scrape" them forward to the discharge point. Scraper conveyors are typically used for coarse, heavy materials such as raw coal, iron ore, cast metal parts, and metal scrap. The design is ideal for slower transportation speeds over short distances, on moderate inclines, or even in submerged applications. This type of conveyor is typically more cost effective to install and maintain than a belt conveyor of similar capacity and length.
Chain conveyors use an endless chain both to transmit power and to propel material through a trough, either pushed directly by the chain or by attachments to the chain. The chain runs over sprockets at either end of the trough. … The load is positioned on the chains, the friction pulls the load forward.
The primary purpose of the scraper is to prevent material carry back on the conveyor system. By reducing material carry back, the conveyors can run more efficiently by having fewer breakdowns and lower running costs. Efficient and correctly adjusted scrapers save the plant operator time and money.