AGRICULTURAL CHAINS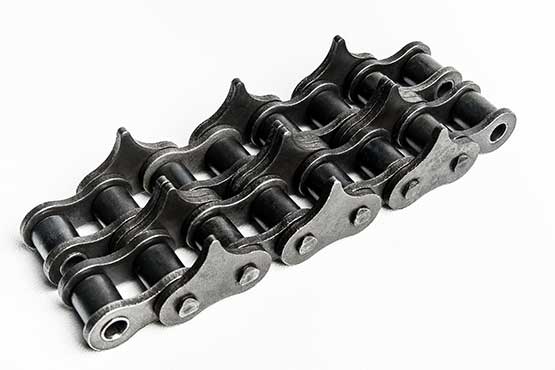 You are dependent on your equipment, and you need to know that your equipment will be ready to go when you are. There are a number of challenges for agricultural machinery chain applications, such as:
High shock load applications, such as loading/unloading materials like hay bales
Dirt and dust gumming up the works
Excessive use raising the temperature of parts and placing them under additional stress
Rapid temperature changes; extreme heat and cold
Ongoing wet conditions
Since these chains are constantly in contact with atmospheric agents, soil, stones, impact and tearing they must present considerable characteristics of resistance to wear and tear and to oxidation.
Upon request, they can be produced in a zinc-plated version which gives a reasonable protection against oxidation.
Examples of agricultural chains ;
Attachments for harvesters machines
Attachments for elevator
Attachments for LV chains
American agricultural standard
Thicker type with straight sideplates
Chains with special sidebar
Agricultural chains – tm attachments
Chains for croop fodder machines
Chains with attachments
Double pitch chains (ISO & ANSI)
Corn picker chain
Hollow pin chains for agricultural conveyors
Hollow pins conveyors chains – 12 and 31 series
Roller chains – single strand (ISO and ANSI)
Popular applications for agricultural chains are:
Combine Harvesters
Vegetable Grading Conveyors
Grain-Elevators
Round Balers
Circular Bale Unrollers
Back-Fee Hoppers
Box Scrapers
Fruit Packing Conveyors
MAKELSAN CHAIN also offers a wide range of agricultural machinery chain products for various applications;
These chains are ;
Elevator chains
Scraper chains
Gathering chains
Corn harvester chains
Bucket elevator chains
Rough conveyor chains
Leaf chains
AGRICULTURAL ROLLER CHAIN ATTACHMENTS
Attachments are commonly used for agricultural roller chains, so we keep a full line of attachment links in our product range. We can also supply a complete assembly with the chain and attachments already attached.
You can review the "MAKELSAN SPECIAL CHAIN CATALOG" for more detailed information and to examine the examples of the agricultural chains we produce.