ATTACHMENT CHAINS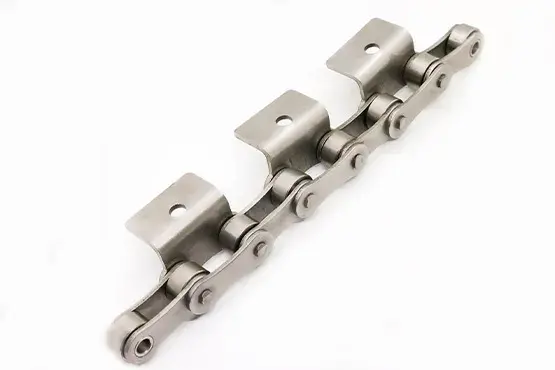 With single or double hole; The attachments we produce in curved or vertical form provide ease of use and freedom of design to manufacturers in plant and machinery construction. We produce these attachements in carbon steel, zinc, chrome plated or stainless steel.
Chains with Attachements According to the Needs of Our Customers
It is also possible to combine different designs of attachments mounted on a single, duplex or triplex chain. Designed in accordance with the needs of the production line, we apply the attachments on one side or on both sides of the chain, or mount them to the chain at intervals according to the needs of our customers.
Our Chains According to the Attachments We Apply:
Roller Chains with M-Attachments One or Two Bore Holes
Roller Chains with K-Attachments One or Two Bore Holes
Roller Chains with extended pins
To examine the examples of the attachments chains we produce and for more detailed information please review the "MAKELSAN E-CATALOGUE"