HOLLOW PIN CHAINS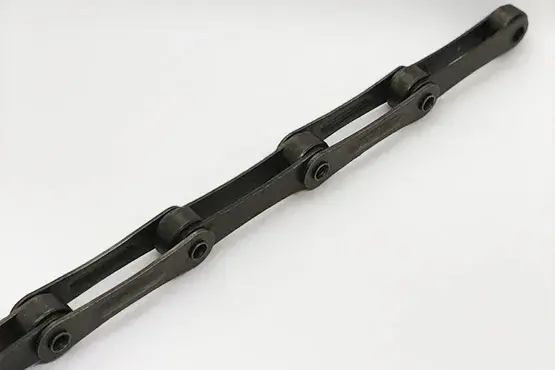 High Performance and Durable Hollow Pin Chains
A special link pin design distinguishes hollow pin roller chains from standard roller chains. Hollow pin chain links have a similar construction to ISO standard roller chains; they consist of pin, bushing and small pulley, so most chains of this type are compatible with the same sprockets as corresponding standard chains. We can supply these chains double-paired, as double-stranded processing is conventional for most applications.
Hollow pin chains operate without bushings in light use, usually on small conveyors using two parallel chains.
Hollow pin chains are used for a wide variety of industrial applications. It is used by connecting a carrier piece between two parallel chains or by passing a steel bar. Since two chains usually run in parallel (double helix), we manufacture in pairs of matching chains. Hollow pin chains have chain pins with through holes for mounting specially designed attachments. The general working principle of chains with hollow pins is based on connecting a rod, shaft or a different carrier piece that is passed through hollow pins. Hollow pin chains are often used as carriers in chip conveyors, bucket elevators and roller belt systems.
You can review the "MAKELSAN CHAIN CATALOG" to examine the examples of the hollow pin chains we produce and for more detailed information.