SERRATED - SAWTOOTH CHAINS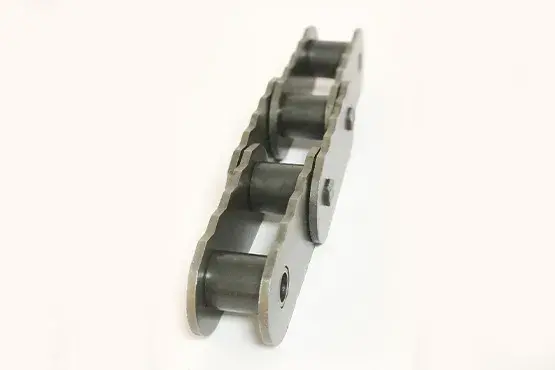 Usage Areas of Serrated Chains
Serrated link chains are generally used in the wood industry. The saw tooth form on the upper parts of the chain links are the chains that undertake the transport task in the iron-steel sector and many other sectors, especially in the timber transport, in order to carry the material to be transported without slipping and damage. These types of chains have very high wear resistance and are designed for optimum fatigue strength.
They are mainly used in the woodworking industry for the transport of raw timber and sawn timber. Other sawtooth forms are available on request.
The timber industry is divided into numerous sectors, all of which have wood as their main raw material in common. As the link between logging and woodworking, the lumber industry provides the sawn timber required for further processing.
Many chains used in woodworking are subjected to extreme dynamic loads. Today, high-speed timber processing is becoming an increasingly important requirement.
To deliver the speed and efficiency demanded by the industry, sawmill machines and components must meet extremely stringent requirements.
Wood is a natural resource that creates difficult conditions for processing machines. No two tree trunks are alike, and roughing and finishing can have a negative impact on machine components. Chains tend to wear out faster due to insufficient lubrication, dirt sticks to the chain and prevents oil from penetrating where it is needed most.
Serrated Top Chains are used in many applications in the timber industry: in the log yard, to separate and dry the timber and to generate the power required to operate the machinery used in these operations. As Makelsan Chain, we offer reliable solutions for conveyor, transport and drive chain applications.
Since the working environment is full of dust, sawdust and other dirt, we use suitable lubricants to reduce wear for the long life of the chain, thus ensuring a high level of machine availability.
As Makelsan Chain, we design serrated link chains to be particularly impact resistant. Sprockets and various attachments complete our product range.
You can review the "MAKELSAN SPECIAL CHAIN CATALOG" for more detailed information and to examine the examples of the serrated link chains we produce.