Industrial Chain Sprocket
Industrial Chain Sprocket
A sprocket is a simple mechanical wheel with teeth. They are designed to rotate and engage with the links of a chain or belt. To be able to operate properly both the chain and the sprocket need to have the same thickness and pitch.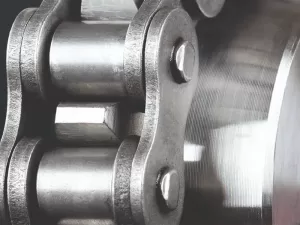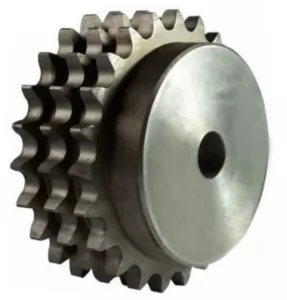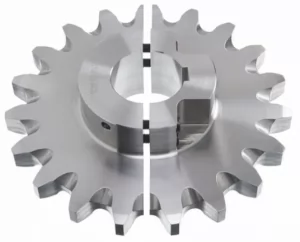 What is Chain Sprocket?
A Sprocket is a wheel with teeth which locks onto a chain. When the sprocket rotates, the teeth hold the chain and drive the chain together with the other parts attached to the chain. This operation provides a controlled rotational movement of large equipment and machinery.
A sprocket is manufactured from metal or reinforced plastic to handle the force of a moving chain.
Sprockets make direct contact with a variety of chain rings unlike gears which interlock together to transfer rotational movement. They are distinguished from a gear in that sprockets are never meshed together directly
Sprockets are parts that are made with specific chain rings to correctly fit and handle specific loads. Sprockets need to meet tight specifications regarding factors such as:
Size
Dimensions
Diameter
Teeth width and depth
Choosing the proper sprocket is crucial because it can cause you heavy loss when using a wrong sprocket where the teeth would chip or break. On the other hand, the sprocket with the correct chain can move without breaking, even in heavy-duty conveyor system applications.
What is Sprocket Used for?
Sprockets are used in bicycles, motorcycles, tracked vehicles, and other machinery either to transmit rotary motion between two shafts where gears are unsuitable or to impart linear motion to a track, tape etc.
Sprockets and chains are used for power transmission from one shaft to another where slippage is not admissible, sprocket chains being used instead of belts or ropes and sprocket-wheels instead of pulleys. They can be run at high speed and some forms of chain are so constructed as to be noiseless even at high speed.
Sprockets are mostly used for three main purposes: transmitting power, carrying materials on conveyors and carrying loads in lifting vehicles.
Sprockets are used mainly for the following applications ;
Agricultural and farming equipment
Automotive equipment
Chain-driven machinery, such as conveyor belts and other factory systems
Pulleys, shafts, and other power transmission equipment
Vehicles, such as bicycles and motorcycles
What are the Types of Sprockets?
Different types of sprockets have different hubs. A hub is the added thickness around the central plate of a sprocket that doesn't include the teeth. There are four main types of chain sprockets as established by the ANSI:
Type A sprockets,which are only the plate with no added thickness or hubs.
Type B sprockets,which have a hub on one side.
Type C sprockets,which have hubs of equal thickness on both sides of the plate.
Type C offset or Type D sprockets,which also have two hubs. However, each hub has a different thickness, making the sprocket asymmetrical.
The different types allow for different applications. Type A and B sprockets fit easily against Equipment with tolerance, while Type C sprockets are generally larger and need more thickness to support weight.
Special Sprockets
System performance highly depends on chain-sprocket interaction, which means your choice of sprockets can elevate your operation's success. As Makelsan Chain we provide the right type of sprocket that corresponds with the matching chain.
Our Productıon Range Covers Various Designs Of Sprockets:
in single and double sided hub design
divided sprockets
sprockets with bolted-on segments or tooth shells
shear-pin sprockets
Roller Chain Sprockets
These are the most common types of sprockets used. They work only with chains designed by rollers interconnected by pins.
Roller chains provide a gap that fits the teeth of the sprocket to transfer rotary motion. These are used in transmission equipment applications.
Chain Sprocket Price
The performance of a conveyor or drive depends on sprocket-chain interaction. Using the right sprocket is just as important as choosing the right chain.
Sprockets are a decisive factor in the capability and service life of every chain system. We therefore produce our own sprockets to ensure the high quality of all products.
We supply the corresponding sprockets for all chains. We produce in high quality materials with tempered and additionally inductively hardened teeth.
Please contact us to request a quotation.