STANDARD CHAINS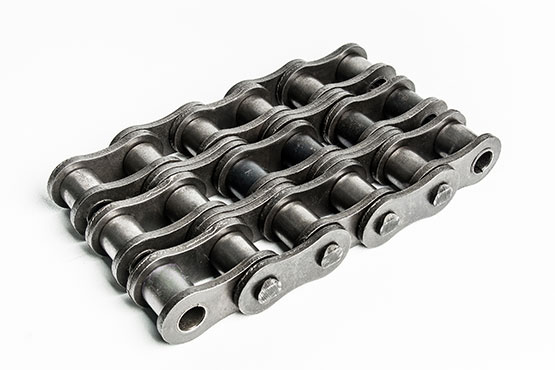 As Makelsan Chain, we have a comprehensive range of roller chains in accordance with DIN ( ISO 606) ( DIN 8188 ) ANSI and ( ISO 606) (DIN 8187 ) BS standards, but we also offer a large number of special chains for different uses. All of our chains in our product portfolio meet the quality requirements of a wide variety of different industries.
Standard steel chains consist of a series of single chain links. They are used in static or dynamically loaded drive, material handling or conveyor applications at low and medium chain speeds, and as high speed drive chains for power transmission between parallel axis shafts. Standard chains are used in a variety of applications throughout the mechanical engineering industry, such as the agricultural machinery, construction industry, printing machinery, textile and packaging industries, conveyor and material handling technology, food industry, logistics, timber processing and automotive manufacturing.
As Makelsan Chain, we manufacture many different types of high performance roller chains, including straight form chains, long pitch chains, stainless steel chains and side bow chains. Our standard chains, produced from stainless and acid-resistant quality steel, show resistance to corrosion with their drive and anti-magnetic properties.
Our Standard Chain Production
In our standard chain production, we manufacture 1" (16 A / 16 B) and above sizes. We can produce all our standard chains as single, duplex or triplex. According to the demands of our customers, we can produce and pack in boxes of 5 meters each or in the requested quantities. In all our standard chains, every 5 meters of chain is shipped with 1 connecting link.
As with all chains in our production, connection parts of standard chains are also included in our product portfolio.
Standard Chain Features
A chain consists of inner and outer links. The inner link consists of two inner plates into which the two bushings are pressed, and two rollers that rotate on the bushings.
The outer link consists of two outer plates and two bearing pins. By adding outer links, the inner links are connected to form a chain. We also manufacture half link and connecting links with seegers or cotter pins according to the needs.
To examine the examples of the standard chains we produce and for more detailed information please review the "MAKELSAN E-CATALOGUE"